Katy Bourne
The SUSSEX POLICE page shows letters from Katy Bourne, our Police Crime Commissioner.   
Katy was re-elected by the public in May 2016 to hold the Chief Constable of Sussex Police to account for the performance of the police force, effectively making the police answerable to the communities they serve.  She is responsible for setting the strategic direction and priorities for Sussex Police through the Police & Crime plan  This includes setting the police budget (approx £250m) and local police precept – the amount residents pay for policing in their council tax.  She also has a statutory duty to commission support services for victims of crime and to deliver community safety initiatives including restorative justice and crime reduction grants.   Katy's newsletters are shown below.
Katy's website:    https://www.sussex-pcc.gov.uk/about/your-pcc/
---
8  March 2019
Hello,
This week Sussex Police welcomed a further 72 new PC recruits. This latest intake of officers-the largest in a decade-were sworn in at a formal ceremony on Wednesday at the Amex Stadium.
The new recruits have just started 15 weeks of intensive training and will join policing teams across Sussex this June. They bring the total number of new constables in the last year to 270.
With an extra 250 officers, 50 specialist investigators and 100 PCSOs in Sussex Police's recruitment plans, the public can be reassured that any extra money raised locally through the precept will be invested in further strengthening local policing.
I look forward to meeting this new cohort of officers and sharing their progress with readers.
On International Women's Day today I visited the Safe in Sussex women's refuge in Littlehampton and met some of the brave women there who are survivors of domestic abuse and the dedicated staff who support them.  The first of its kind in the UK, the refuge is based on the Dutch model of the Orange House which is the concept of having a refuge within the community with a drop-in centre on the same site.
Since opening in October 2017, just this refuge alone has housed 27 families and had 305 women seek help and support through the drop-in centre facility. I am proud to have funded this charity and meeting the women today it was clear that they provide a life saving service to women and their children in domestic violence situations.
22 year old Kendall (name changed for anonymity) told me about her own experience and why she thinks having a place of safety for women in the community is so important, you can listen to her story here.
A pilot of this early youth intervention approach was trialled in Hastings with none of the  children needing the final enforcement approach of a civil injunction.
Today I will be one of three elected Sussex representatives being interviewed for this weekend's Sunday Politics Show. We will be discussing how Sussex Police and partners are tackling county lines and drug gangs.
With the headlines dominated by tragic stabbings and murders over the last week I want to talk about REBOOT, an early intervention youth programme funded by £900k I secured from the Home Office. The REBOOT programme will offer a personalised one-to-one support package for young people identified as being at risk of engaging in serious violence and gang behaviour.The programme reinforces positive attributes and attitudes and builds on strengths and interests that can help young people overcome some of the issues they face.
Funding will be provided to existing youth services in hot spot areas in Sussex and, funding has been committed for pan-Sussex activities. At the core of the REBOOT programme is an agreement between Sussex Police, Youth Offending Services and the NHS Partnership Trust to provide a referral pathway for young people showing early indicators of serious violence through a supportive five stage approach with enforcement at the final stage.
A pilot of this approach was trialled in Hastings with 69 children with none of them needing the final enforcement stage of a civil injunction. Police officers and youth and health experts tell us this approach to early intervention clearly works so we are optimistic we can repeat this success on a county-wide scale.

---
1 March 2019
Hello,
On Wednesday I attended Home Secretary Sajid Javid's Domestic Abuse (DA) oversight group meeting in London to help set the direction for lasting improvement in tackling domestic abuse.
I am committed to ensuring that victims of DA get the best service available when they have the courage to come forward and get help. At this meeting we looked at further improving the police response, the Draft DA bill and the HMIC honour-based violence report.
I welcome any legislation or report which recognises Domestic Abuse, in its many forms, as the complex and dangerous crime it is. To understand that it goes beyond violence – and includes those who are psychologically, financially and coercively controlled – is a huge step forward.
In the last few years, improvements have been made nationally into how forces are prepared for the complexity of these cases and in Sussex I have funded a number of DA specialist support services who work closely with Sussex Police to offer the appropriate help and support to victims.
We now have a baseline upon which police and other public sector agencies can build to establish effective responses to victims and we all now need to work together to prevent others from becoming victims in future.
This survey highlights even further the increasingly difficult job police officers have in keeping us safe.
Findings published this month from the Police Federation's Demand, Capacity and Welfare survey have revealed that almost 90% of Sussex Police officers have said morale within the Force is low and almost four out of five have faced mental wellbeing issues over the last 12 months.
This survey highlights even further the increasingly difficult job police officers have in keeping us safe. We live in an ever-changing landscape of sophisticated digital criminality, organised crime groups and external security threats and often this is the policing response that goes unseen by the public.
Nationally, additional resources are needed to combat some of the pressures placed on our forces and in Sussex work has started to address this. Sussex Police has already begun recruitment for 250 more police officers and 50 specialist investigators. In March recruitment also begins for the 100 extra PSCOs promised from this year's rise in precept, offering welcome support to officers in their investigations and directly tackling anti-social behaviour and drug-related crime in our communities.
I know that the Force have in recent years introduced a significant number of schemes and support mechanisms so officers and staff get the help they need but still more could be done. I will seek assurances, in my next scrutiny meeting with senior officers, that appropriate investment will be made in what they need to support them in their role.
Tonight I will be continuing my visits to the local community safety projects that I have funded over the last year by attending a football tournament with Crawley Kicks. This programme provides sport sessions to young people aged 9-19 at risk of getting involved in criminality, with the aim of reducing or preventing anti-social behaviour and knife crime. They bring young people together from different parts of the town and educate them on the severe consequences of offending/re-offending.
I look forward greatly to meeting some of the young people they have helped already and their talented coaches/mentors.

---
22 February 2019
Hello,
I have noticed some negative speculation in the press and on social media recently on the relevance of PCSOs in policing and questioning the decision made by the Chief Constable to recruit 100 PCSOs from part of the rise in this year's precept.
I would like to take this opportunity to hopefully remove some of the misconceptions around the role PCSOs can and do play in keeping our communities safe and introduce you to a couple of the new recruits from this year.
PSCOs work closely with officers and local communities across Sussex to gather intelligence which bolsters investigations and offer a welcome deterrent presence in our towns and villages. They are trained to tackle a magnitude of issues and address the public's concerns head on. They very much take a proactive part in keeping our communities safe and we have already seen anti-social behaviour being successfully tackled in certain areas as a result.
PCSOs play a proactive role in keeping our communities safe.
PCSOs and PCs working together in prevention teams have been taking robust action against this crime type in Burgess Hill town centre. They have conducted high visibility patrols in the town centre and other hotspots, directly interacting with anyone committing ASB and removing them from the area. This high visibility is set to be maintained and similar deterrent methods will be adopted in towns and villages across Sussex following the recruitment of 100 more PCSOs starting in March of this year.
PCSO Nathan Lax, who joined the Mid Sussex Prevention Team in October 2018, commented: "We've been given very positive feedback from members of the public, shop-owners and Burgess Hill Town Council. It's been very rewarding and has made me feel like an integral part of the community."
Isobel Tugwell is another one of Sussex Police's new PCSOs who has been through training and can now be spotted regularly patrolling the streets of Brighton, helping officers reduce reports of anti-social behaviour in the city centre. Commenting on her recent successes she said, "It's rewarding to know that I am helping to make the community safer."
I have spent a lot of time this week at engagement events with the public as part of my ongoing #TalkSussex campaign. I would like to thank Wadhurst U3a, East Preston Parish Council, Bexhill 100 Motor Car Club and Mid Sussex Association of Local Councils for inviting me to speak at your events.
This ongoing conversation allows me to talk to local communities about the work being done by Sussex Police and partners to address the six issues that residents have raised most with me over the last year: anti-social behaviour; theft and burglary; rural crime; feeling safe at night-time and in public spaces; contacting the police and road safety. That being said I am always heartened at the level of support the public have for Sussex Police and the recognition shown for the vital role they play in keeping us all safe.
I will also be reaching out to minority groups across the county over the next couple of months to make sure that everyone has a voice in policing matters  and that their concerns are listened to and inform positive change.

---
14 February 2019
Hello,
This week I visited the WBC Cares boxing programme in Hove which has recently benefitted from £5,000 of funding from my Community Safety Fund.
This scheme works with Sussex Police, Brighton & Hove Youth Offending Team and the Amateur Boxing Gym offe
ring a 12 week boxing programme to help young people who may be at risk of violence, crime and exploitation.
Since receiving the funds in November they have already generated positive results and received even more funding directly from Sussex Police to run a 10 week pilot expansion of the programme providing physical activities; boxing, self defence, martial arts and fitness three times a week.
I saw first hand how valued this programme is by the young people who have been referred or joined. Without diversionary activities like this one which offers discipline, structure and an alternative way to channel negative energy, these young people would be following a very different path than they are today.
One boy, 13, who had been excluded from school on numerous occasions, said that the programme had changed his life since he started coming several weeks ago. "When I first started, I used to get into about three fights a week at school, and now I don't get into any. I know I could end up going down the wrong path if I didn't come here – using drugs, dealing drugs, or committing robberies – but this gives me more strength, more self-confidence and more self-esteem."
I know the coaches have plans to expand in the near future to cover the Crawley and Worthing areas and I look forward to following this programme's journey.
This week I supported, with Sussex Police, the national Action Fraud campaign warning the public to spot the signs of romance fraud ahead of Valentine's Day.
Victims of romance fraud are targeted and exploited when they are at their most vulnerable and deceitful tactics are used to lure them into parting with often huge sums of money.
PC Bernadette Lawrie BEM, Financial Abuse Safeguarding Officer for Sussex & Surrey Police comments, "One of the most difficult conversations I have is telling a victim that not only will they not see their money come back but that the person they believe they're in a relationship with, is in a fact a criminal posing under a false identity."
In Sussex during 2018, 157 victims lost a total of £2,561,906 with an average loss of £16,318 – sadly 127 out of 157 attempts succeeded. 61% of victims live alone and their average age is 65.
The fraud caseworkers I have funded for the last two years work closely with these vulnerable victims offering invaluable emotional support as well as practical advice and enabling people to better protect themselves from future victimisation. Read Sussex Police's advice on romance fraud here.
My Performance & Accountability Meeting (PAM) today contained information about how illegal proceeds of crime are seized and confiscated by the police. As the result of an investigation into an illegal steroid-producing laboratory in Bognor, a sum of £1.3million was seized by Sussex Police only this week. Confiscated funds like these are then redistributed jointly between the Treasury and law enforcement agencies (Police, Crown Prosecution Service and the courts) further strengthening their capacity to tackle crime. In this case it serves as recognition of the Force's determination to pursue criminals and regain illegal profits. Watch today's PAM here.

Katy Bourne
---
25 January 2019
Hello,
My A Life More Ordinary campaign has resulted in a 68% rise in visitors to Safe: Space Sussex (the online directory of local support services) with Domestic Abuse (DA) as the most searched page. This has come to light at an important time with the government announcement this week of draft legislation to combat the impact of this abuse.
This bill will finally define DA as the complex crime it is, recognising those who are being psychologically coerced, as well as those who have no control of their own finances.
Victims will also no longer have to face cross-examination in the family court by their perpetrators and those found guilty of this crime will be forced to participate in rehabilitation programmes like the pilot project – Drive – that I have funded in Sussex.
The Drive project has worked annually with 100 of the highest risk perpetrators for the last three years. We now know, that in Sussex, perpetrators will have on average up to six victims and the results we are seeing in breaking this pattern of behaviour are really significant.
It's incredibly important that innovative programmes like Drive and Women's Steps to Change are supported by the government and allowed to continue making positive changes.
Backed by my office, the Women's Steps to Change Project has been running since May 2018 and aims to support women in the early stages of the criminal justice system.  Funded by the Ministry of Justice, it's running in six pilot areas of which Sussex is one, and so far has proved very successful with a higher than expected number of referrals.
It offers coaching to help women access services in the community to improve their wellbeing. They are encouraged to set achievable goals and helped to find employment, education and, if necessary, accommodation. The ultimate aim is to reduce reoffending.
The Force's analysis of the demands on local policing has led them to request:
• 100 more PCSOs 
• 50 more police officers 
• 50 more specialist staff and investigators
I have had the privilege for the last three years of chairing the Police ICT Company and this week I opened their annual summit and welcomed 320 delegates to a two day discussion on the future of digital policing.
Embracing the Challenge of Change was a fitting theme this year as we see crime becoming increasingly difficult to police in the digital world. The company's aim has been to help police forces keep up with this evolving threat – and keep the public safer – through better information and access to the latest data analytics technology.
In line with the Policing Vision 2025, they are now working to transform the way policing conducts its business with the public and public sector partners. Read more here.
This week I submitted to the Police & Crime Panel my recommendations on the level of the precept – the police element of council tax- for 2019/20. This has followed close discussion with the Chief Constable and his senior team and my consultation with Sussex residents.
The Force's analysis of the demands on local policing has led them to request:
• 100 more PCSOs going back into the community to provide a reassuring local presence
• 50 more police officers to add to the recruitment drive already under way
• 50 extra specialist staff and investigators
To make this possible I have recommended that the Panel approve the maximum permissible rise for an average Band D property: £24. The proposal will be discussed at the Police & Crime Panel meeting on 1 February and the outcome will be shared with Sussex residents.
---
14 January 2019
Hello,
On the 14th January I will be launching a week-long photographic exhibition at the Jubilee Library in Brighton to celebrate locally-funded victim support services.
In 2015, Sussex led the way by establishing one of the first online directories of local victim support services, Safe: Space Sussex. This vital service makes it easier for victims of crime to find the help and support they need and I am using this week to raise awareness of it: http://www.safespacesussex.org.uk/
The exhibition will showcase six portraits of brave Sussex women who have regained their version of 'A Life More Ordinary', photographed in environments that they wouldn't have been able to return to without the help of our local victim service providers.
For example, Norma suffered years of domestic abuse which left her completely lacking in self-confidence. She loved to sing and perform but had not been on stage for a long time. She was referred to Action on Elder Abuse and says her caseworker, Gail, has been her 'guardian angel' through her journey of recovery.
Norma's story: "The last time he hit me was the straw that broke the camel's back. Somebody told me about Action on Elder Abuse. Gail has been my rock, my guardian angel. He was always jealous of me singing. I've not got dressed up like this for two years. I used to love singing here. Being back is like coming home."
Victims of crime often do not feel they have the freedom or self-confidence to go back to a new normality after what has happened to them. They need help and support on that journey of recovery but often don't know where to find it.
If you are in Brighton over the 14-20th January, please visit the Jubilee Library to view the stunning portraits and read these women's inspiring stories.
Photographic exhibition at the Jubilee Library, Brighton from 14-20th January.
My online survey about the future funding of Sussex Police is now closed and thanks to those of you who took the time to respond.
I would also like to thank the Sussex residents who participated in the first phase of my focus groups to address concerns and gauge levels of confidence in the Force. It was extremely useful to hear opinions from communities across the county about local policing issues that matter to them.
Everyone who took part can be assured that I am listening to you and taking into account your desire for more visible and accessible policing. Proposals for the future shape of the Force will be discussed at the start of February and decisions fed back to you as soon as possible.
---
4 January 2019
Hello,
The first tranche of Community Safety Funding for 2019 is now open and I am inviting organisations across Sussex to bid for up to £5,000 each to help keep Sussex safe.
Since launching this scheme in December 2013, nearly £1.5 million has been allocated to support 300 crime reduction and community safety initiatives.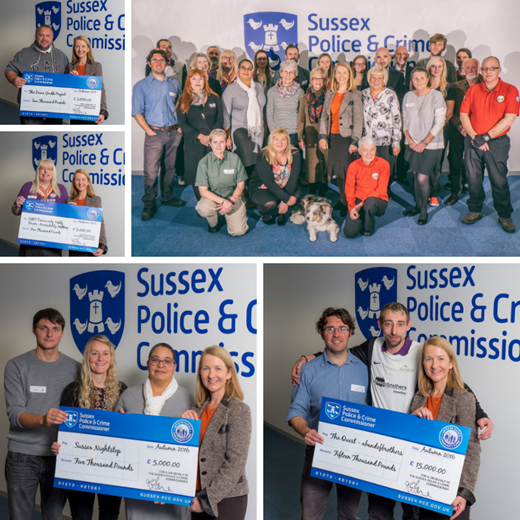 I know that this money makes a real difference to local people and neighbourhoods. The high numbers of bids each time shows organisations and community groups are committed to keeping Sussex a safe place in which to live.
I will be out and about in Sussex checking in with some previously funded projects to keep you all updated on where that money has been spent in your communities.
My first visit of the year will be to the WBC Cares programme in Brighton & Hove.  Working with Sussex Police, Brighton & Hove Youth Offending Team and the Amateur Boxing Gym, this course offers a 12 week boxing programme to help young people who may be at risk of violence, crime and exploitation.
The end goal is to reduce the social distance between young people and services such as the police and education departments. With anti-social behaviour reports rising in the last year and more and more young people being targeted by organised crime groups, it is important that we inject positive youth projects, like this one, back into our communities.I am looking forward to meeting the young people who have already benefitted from this intervention and their talented coaches.
The window for applications to the Community Safety Fund is open until Sunday 27 January. For more information and to apply, click here.
Recognition for two Sussex Police officers.
Two Sussex Police officers have been recognised in the New Year Honours List for their outstanding contributions to policing in the county – PC Caroline Adams and PC Bernadette Lawrie.
I have had the pleasure of working with PC Lawrie on the Force's Operation Signature and know first-hand just how dedicated she is to protecting vulnerable victims of fraud, helping to save over £1m from falling into the hands of criminals.
Criminals are grooming our most vulnerable, lonely and often elderly residents, robbing them of their life savings and potentially the ability to look after themselves. I'm glad that the valuable work of police officers in this area is not being overlooked.
Sussex Police are currently recruiting more contact handlers and are opening the doors of the Contact, Control and Command Centre at HQ in Lewes for applicants to go along and see the important work carried out there, before applying for the role.
A contact handler is expected to deal with a huge variety of emergency 999 calls, non-emergency 101 calls, online and social media communications. The situations they are faced with on a daily basis are as diverse as the communities they serve and they engage with people of all ages and backgrounds.
I believe that providing excellent customer service to the public is crucial in this role. They are often the first point of contact with the police for members of our communities and an improvement in the efficiency of this service over the next year will help increase public confidence in our Force as a whole.
If you feel like you have the right skills to apply for this interesting role, please cick here.
---
16 November 2018
Hello,
I am delighted with the recent outcome of our bid to the Home Office's Early Intervention Youth Fund, securing £890,616 to help steer local young people away from crime and inject some positive youth projects back into our communities.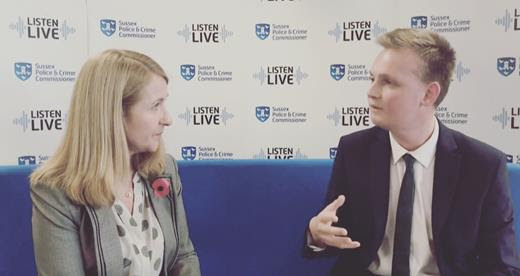 From speaking to local residents, I know that disruptive anti-social behaviour and low level crime is becoming a problem for many communities. Rather than seeking to criminalise the young people behind this activity we need to take a longer term and more preventative approach where possible.
This fund will help bolster and develop programmes that provide effective and positive early intervention. It will go towards supporting voluntary and charitable agencies, who will work with schools, health and police to engage with under-18s at risk of committing serious  violence, and those who have  already come to the attention of police. I will soon be announcing how the funding will be allocated.
Following a recent report from the Home Office on the national decrease in arrests, it was calculated that Sussex Police has demonstrated a 4% reduction, with 770 fewer arrests made. The Force has an approach of balancing early intervention and enforcement to help reduce the criminalisation of children and young people. I asked senior officers today on the impact this has on the figures of arrests and reports of crime in Sussex. Catch up on this month's Performance and Accountability meeting here.
The police are extraordinary people going above and beyond every day to keep our communities safe and supported.
Last Friday I accompanied two of my Independent Custody Visitor Volunteers on an inspection of Eastbourne custody suite. I was happy with how the welfare and rights of the detainees were being upheld and the high level of professionalism shown under the pressure of our unannounced check.
I then attended the 21:00 briefing with response officers and was glad to see how upbeat they were despite the prospect of embarking on a late night patrol in atrocious weather.  After this, I joined officers Ben and Ryan who had been on shift since 7pm.  It was fascinating seeing the ANPR equipment working in their patrol car and watching the seemingly relentless queue of jobs come in.
We had barely got in the car when we received a call to go to Beachy Head where a distressed young man had been spotted by the Chaplaincy volunteers driving dangerously along the cliff edge. I was highly impressed with how the officers worked with their partners in the stormy conditions to engage, find common ground and build trust with the young man in very challenging circumstances.
The second call we received was about a man in his late 40s who had collapsed in front of his two teenage sons due to a heart condition and had unfortunately passed away. I watched as one officer prepared himself to break the news to the man's sons waiting in the adjourning room.  Yet again, I witnessed a high level of professionalism and compassion despite the very sad circumstances.
I know you are all aware of the pressures officers currently face and that expectations are the highest they have ever been on our Force. However, it is good to recognise that these extraordinary people are going above and beyond every day to keep our communities safe and supported.
In closing, have you ever wondered what sort of things local residents contact me about? Find out in the first of a new monthly series of my 'PCC correspondence' videos here.
---
8 November 2018
Hello,
On National Rural Crime Day of Action yesterday I joined Sergeant Tom Carter and PCSOs Jackie and Chris at Stanmer Park, for one of the Force's many planned activities across Sussex to tackle rural crime.
In a county like Sussex rural crime remains a priority so I spent the morning encouraging people to sign up to Sussex Countrywatch to  receive regular updates straight into their email account from police and partner agencies on the latest rural matters. To sign-up click here
This year's National Rural Crime Strategy and my own public engagement campaign showed that locally rural crime is still under-reported. So it's important that this scheme also encourages its subscribers to report crime and recommend others to sign up and do the same. We need to create a network of eyes and ears in rural communities that feed directly back to the police.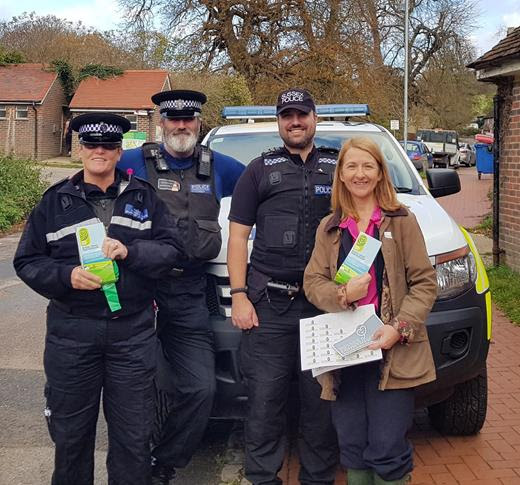 I remain strongly committed to ensuring that crimes occurring in our rural communities are taken as seriously as those in urban areas around the county and that these residents feel that they too have a voice. With this in mind, in January my team will be holding a focus group on rural crime in Battle as part of a series of targeted community engagements across the county.
The first in this series of focus groups was held in Arundel on Tuesday to ask local people their views on policing issues.  Topics of discussion included anti-social behaviour, 101 calls and the lack of visible policing on the streets, a desire for more PCSOs and the need for a crackdown on youth offending.
Despite the concerns raised, it was hugely encouraging that overall the majority of people expressed their confidence in Sussex Police, recognising the funding pressures that the Force has been under and welcoming the current and future recruitment plans. I am keen to gauge the views of residents across the county over the coming months, with the next focus groups taking place soon in Horsham and Midhurst.
We need to create a network of eyes and ears in rural communities that feed directly back to the police.
A report from the HMICFRS was released yesterday looking into how Sussex Police handle cases relating to Child Protection.  It was rightly recognised that Sussex Police has increased child protection capacity with more specially trained officers and staff, and made protecting vulnerable children a top priority during periods when the police force, as a whole, was under increasing pressure.
I am pleased that the ground-breaking work of my Sussex Youth Commission has been embraced by Sussex Police and continues to inform their approach to protecting children. We've already received encouraging feedback from schools and colleges across the county about the really positive difference made by the new Prevention Youth Officers funded by part of the precept rise last year.
It is apparent that demands on police child protection teams continue to increase. Whilst not part of the visible policing the public quite rightly want, this inspection clearly shows that police child protection teams are a key part of the vital policing we don't always see that keeps us, and our children, safe.
Although residents are pleased to hear that Sussex Police will see 200 extra officers on the frontline over the next four years, they are already indicating that they would like even more. That's why I have made a survey live today on my website to gauge potential support for raising more funding locally if the Government changes the current cap on the police precept. I would welcome your views, please click here
---
27 October 2018
Hello,
This week I spoke at the Police Foundation's Annual Conference on Innovation in Policing in particular finding a balance between policing the physical beat and increasing public confidence whilst, at the same time, continuing to modernise the force to keep up with the sophistication of digital crime and policing the digital beat.
In Sussex we will have a turnover of 800 officers (200 extra) by 2022. As we recruit younger, tech-savvy entrants, we must capitalise on their digital knowledge.
As we build the appropriate and necessary technology to underpin our justice system, we need to remember who it is for and maintaining trust and consent is still fundamental.
With tax-raising powers through the police element of council tax, PCCs can still influence the type of policing that their communities want. In Sussex, although we are seen as a leading digitally enabled force, the public want visible local policing which I have asked the Chief Constable to strengthen with increases in the precept along with £17m released from reserves.
At the same time, I am talking to the public every week about the need to police both  the physical and digital beat, and reminding them that the policing they see is a fraction of the policing they actually get to keep them safe.
The public perception of policing is rooted in myths, anecdotes and TV drama so, by engaging with the public in person and through the media, PCCs can be a key part of changing the narrative. With my recent re-election as Chair of the Police ICT company I can continue to keep my finger on the pulse of the digital beat and its changing trends.
I am talking to the public every week about the need to police both the physical and digital beat, and reminding them that the policing they see is a fraction of the policing they actually get to keep them safe.
I have many opportunities to speak to local community organisations as part of my ongoing #TalkSussex campaign and this week I attended the WI East Sussex Federation at Sovereign Harbour, Eastbourne. It was a celebration of 'Women Taking the Lead' and they were all dressed in Suffrage colours or wore an item linked to the Suffrage movement.
I spoke about my role as a PCC and advised them on the dangers of online fraud, hopefully empowering them to take the necessary precautions to protect themselves from becoming a victim of exploitation.
It was a great pleasure to spend my birthday with a group of empowering women and I have to say it was the most tuneful rendition of 'Happy Birthday' I have heard in a long time. It is opportunities like this that remind me of the warm and welcoming community spirit we have in Sussex.
To bolster my engagement with our local communities and hear first-hand your perception of policing in our county, I will be kickstarting a series of small Meet Your PCC discussions in East Grinstead on Tuesday 30th October. There are still a few tickets available so if you live in the local area and you would like to join this discussion on policing, please follow this link to reserve a ticket.
If you are interested in police governance and transparency, I am also recruiting for a new member to join our Joint Audit Committee. In this role you will provide independent assurances and oversee all audit arrangements to enhance public trust and confidence in the governance of the Office of the PCC and also Sussex Police. For more information click here.

---
19 October 2018
Hello,
This week I supported the Crimestoppers Modern Slavery AdVan campaign which appealed for information from our local communities.
Modern slavery is happening in Sussex and is currently an under-reported crime. This campaign is calling on the public to be more aware of things happening in their peripheral vision, where too often the signs of modern slavery are present but go unrecognised and opportunities to report are missed.
The national definition of human trafficking or modern slavery encompasses several forms of exploitation, as we are seeing here in Sussex, with children being forced to commit crimes for larger criminal organisations.
I fund an Anti-Modern Slavery Delivery Manager, who has led this campaign, to ensure that the right information and intelligence is recognised, escalated and investigated in a way that maximises the safeguarding of potential victims and improves prosecution opportunities for suspects.
Glenys Balchin, Regional Manager of Crimestoppers for Surrey and Sussex, said: "We were encouraged by the results of our first campaign back in June, receiving three reports alone in that one month after we launched our 'Signs to Spot' activity.
"We want to reassure people that we are here for them, to take their information anonymously, safely and securely."
Help us keep our community safe by being vigilant and reporting any concerns you may have either anonymously via Crimestoppers or directly to Sussex Police.
To read more about how to spot modern slavery click here.
I also questioned senior officers today, in my monthly Performance and Accountability meeting (PAM), on one of the several forms of modern slavery currently happening in Sussex, County Lines.
Last month, the National Crime Agency (NCA) launched a County Lines Coordination Centre to develop a national intelligence picture of drug-dealing networks, as part of a crackdown on County Lines drug gangs that send children from large cities into smaller towns to exploit new markets and evade police detection.
What will the launch of this centre mean for Sussex Police? What is being done locally to tackle this evil crime? If you didn't get a chance to watch my PAM live today but you want to hear the police response to these questions – you can catch up here.
Other questions on the agenda today were: policing of hunts; grade 1 and 2 response times; domestic abuse; solved crime rates; children in custody; police officer and PCSO recruitment update and the potential impact of Brexit.

---
12 October 2018
21st century challenges to tackling domestic abuse
Hello,
This week I joined a panel discussion in London to welcome a new report which identifies ways to address the 21st century challenges to tackling domestic abuse. The criminal justice consultancy, Crest Advisory have developed this report in partnership with IT business and consulting services provider CGI.
Last year, nearly two million adults experienced domestic abuse with only two avenues open to them in securing an official response: a criminal justice response and a civil justice one.
Too often these are not proving as effective as they should be especially when there is a disconnect between the civil and criminal justice systems or existing tools available to the police and others are not being used to their full potential.
The main aim of the report is to connect research, policy, lived experiences and technology, to be able to explore ways that existing systems and processes could better protect vulnerable people and prevent domestic abuse now, as well as looking at where the opportunities lie for solutions in the future.
With the Government currently in the process of reviewing its approach to domestic abuse via the Domestic Abuse Bill, now is the time to make the necessary improvements to these systems and processes so that victims of domestic abuse get the help and support they need and deserve.
A national television programme this week raised some important issues for policing.  It highlighted the public's understandable frustration if a reported crime is not investigated further and it looked at the national figures where Forces are 'screening out' crimes like burglary.
From my visits to the Force Command and Control Centre where calls from the public are received, I know that Sussex Police manage and review all initial reports based on the threat, harm, risk, investigation (lines of enquiry), vulnerability and engagement (THRIVE) system.  The police have always had to prioritise their response to crime and determine which incident report they should attend but what does this mean exactly for residents of Sussex when they report and their incident doesn't fit into these categories?
I intend to make THRIVE a topic for discussion in my Performance and Accountability (PAM) meeting with the Chief Constable next month.  If this is a topic on which you would like more clarification, you will be able to watch 16 November's PAM here.

---
5 October 2018
Hello,
Now that autumn is upon us, I thought I would use this newsletter to reflect on the outcomes of my summer #TalkSussex campaign and how I plan to use the information gathered to inform my upcoming Listen Live discussions on local policing in our communities.
As your Police & Crime Commissioner I have two fundamental duties; to consult with members of the public on policing and how safe they feel in their area and to ensure your concerns are appropriately acted upon.   I take both very seriously.
I want to continue my ongoing conversations with local communities about the work being done by Sussex Police and partners to address the six issues that residents have raised most with me: anti-social behaviour; theft and burglary; rural crime; feeling safe at night-time and in public spaces; contacting the police and road safety.
My first Listen Live event will be on the 30th October at the Chequer Mead Theatre in East Grinstead. It will be an opportunity for the local residents to meet with me and discuss, in an info
rmal setting, their issues and the improvements they would like to see made.
I recognise that you feel safest when you see police officers out and about in your communities.
Police officers are carrying heavy workloads and expectations from the public have never been higher in Sussex. However, thanks to the increase in the amount you pay in your council tax for policing, plus the fact that I've released £17 million from police reserves, Sussex Police is now able to recruit and by 2022, will have 200 more officers than it currently has. This is great news for all of us because I recognise that you feel safest when you see officers out and about in your communities, tackling the areas where you have the most concerns and creating a preventative presence. For more on recruitment click here.
These consultations and your constructive feedback will inform the discussions that I have with the Chief Constable during my scrutiny meeting every month and I will also be taking your concerns directly to your local policing team. It is my job to monitor Sussex Police and make sure you see improvements – together we can positively influence the coming change in community policing as outlined in the force's 18-22 Transformation Strategy here.
In order to speak to as many people as possible across Sussex, I have organised more events like this where different groups can come together in one place and speak to me. So, if you are unable to attend the first meeting or you don't get a ticket this time, there will be more opportunities to come and speak to me.
Tickets will be issued on a first-come first-served basis and we expect a high demand, so reserve yours now for East Grinstead by visiting the Event Brite website here. If you do not have access to a computer please call my office on 01273 481561 to reserve your tickets. Doors open at 17:30 and the discussion starts at 18:00. I look forward to speaking with you then.

---
21 September 2018
Hello,
This week I spoke at an event run by Arun & Chichester Citizens Advice along with West Sussex County Council to publicise the importance of staying safe online.
I'm keen to remind residents that any type of scam is fraud and should be reported as a crime. Cyber crime and bogus telephone calls or visitors – especially targeting older people – are becoming commonplace,  while 'romance scams' are on the rise due to the popularity of internet dating.
Of course, anyone in immediate danger should call 999. Otherwise, to report a fraud or cyber crime you can contact Action Fraud on 0300 123 2040 (weekdays 8am-8pm) or use this link.
For further advice and information on preventing this type of fraud please click here.
This week saw the launch of the Sussex Police Rural Crime Strategy which supports one of my key priorities – making our rural areas safer for residents, workers and visitors. I remain strongly committed to ensuring that rural crimes are taken as seriously as urban crimes across the county.
In today's Performance and Accountability Meeting (PAM), I asked the Chief Constable to explain how Sussex residents in rural areas can expect a different policing response following the publication of this strategy.
Sussex Police is improving its understanding of rural crime and the scale of the impact on victims
Mr York was able to tell me that the Force has worked closely with partners such as the National Farmers Union and the Country Landowners Association to create the new strategy. He explained that a key aim is for Sussex Police to improve understanding of rural crime and the scale of its impact on victims.
It was pleasing to hear that all new police officer recruits in Sussex will now receive special training to improve their awareness of key issues about rural policing. Also, a rural crime network of officers and staff is being developed, meaning that in the near future Sussex Police will have a rural crime expert on duty 24 hours a day.
I was delighted at the success of the recent open days at the Force Contact Command and Control Centre at Lewes HQ, with around 500 visitors in total. The centre receives around 70,000 calls every month, handling both 999 and 101 calls, and I recognise that the contact handlers often work in very difficult and stressful circumstances.
If you weren't able to register to attend the most recent open day, I'm sure there will be others in the near future.
As always, you can get in touch with me on any issues using this contact form on my website.

---
7 September  2018
Hello,
This week my office was visited by senior officials from the Ministry of Justice and the Home Office, who were keen to see how we work in Sussex, and in particular, how we manage the Government funding for victims which was devolved to PCCs.
We showed how we were allocating £2.5m funding for victims of crime, and support for local community safety initiatives, using a commissioning framework that ensures that services deliver real, measurable benefits to crime victims. In partnership with Victim Support, over 45,000 victims have been contacted, an increase of 20% over last year, with 3000 people receiving face to face help.
Our visitors were interested in the PCC-funded Drive Project, a Domestic Abuse Perpetrator Programme run over two years which has led to a 92% reduction in sexual abuse and harassment amongst the targeted group of high risk perpetrators. We also described how funding for the Community Safety Partnerships across Sussex had been maintained at £1.4 for the fifth year running, and how my office was funding an Anti-Modern Slavery Delivery Manager to raise awareness and co-ordinate police and partner agencies' response to modern slavery.  On Thursday, I was delighted to host a Modern Slavery Network meeting and to welcome experts and police colleagues from across the region and from the National Crime Agency.
Research shows that modern slavery costs the UK up to £4.3bn a year – made up of victim support costs, the value of victims' lost earnings and the costs to law enforcement. That is why there is considerable and justifiable pressure to recognise modern slavery as a serious, organised crime.
Next week we will see the first cohort of newly recruited officers at their attestation ceremony and we will see another cohort of new police constables in December.
The UK's modern slavery legislation is currently being independently reviewed as criminal gangs find new ways to exploit victims.  We are seeing new forms of exploitation that fall under the definition of modern slavery such as children being forced to commit crimes for gangs and the recruitment of rough sleepers.
Local policing issues were high on the agenda of two public meetings I joined this week. The first in Rotherfield at the Parish Council, and the second at East Grinstead Town Council Public Services meeting.
Residents and representatives gathered to hear what police and partners were doing to tackle anti-social behaviour and lower-level crimes, and we heard how some of these crimes are the local by-product of more organised crime including county lines.
Whilst Sussex people support their police officers, they understandably want to feel and see the difference from their extra precept contributions in the shape of increased police visibility in their communities. They also want to hear what Sussex police is doing on the ground as it delivers its Transformation Strategy. They want action, not just plans. Despite what you may have seen or heard recently,  the facts are that over the next four years 800 police officers will be recruited, with 600 replacing officers leaving and we will also recruit 200 more officers than we have today.
Next week we will see the first cohort of newly recruited officers at their attestation ceremony and we will see another cohort of new police constables in December. Sussex Police is in investment mode- not cuts mode, but it takes time to get the right people trained and equipped to serve their communities.
In the meantime, I will be inviting local residents to join me and local District Commanders at public meetings to discuss local policing and rural crime issues at a rolling series of "community conversations, "including at Crowborough and East Grinstead as I promised this week.